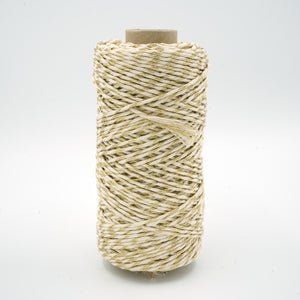 Single Strand Twisted Soft Cotton String
Oeko Tex Certified
Origin Turkey

Each spool contains:
Approximately 300ft (90m), 0.6 kg

This string is made out of very thin strands of soft cotton which makes it easy to work with. Use a comb or pet brush to create beautiful fringe.
Size recommendations (please see other listings for additional sizes):
3mm string is great to work with if you are planning to create small/medium wall hangings, accessories, plant hangers and other projects.
4mm rope is great to work with if you are planning to create a project with a little more structure such as a macraweave or plant hanger! Rope can also be used to create wall hangings with wavy fringe (untwist the rope to create wavy fringe!) 
Please note: 

1) Some spools are very tightly wound. When working with the string, it will expand 0.5-1mm in size.
2) Spools are dyed in batches. As such there may be slight colour variations between batches. Spools are measured by weight not length.
3) Colours may appear slightly different when viewing on a computer or phone screen. I've done my best to show the true colour in each photo.
New to fibre art? My book Mixed Fiber Macrame will teach you both beginner and advanced macrame/weaving knots and techniques. Click here for more information.

I also upload weekly macrame tutorials to my YouTube Channel Lots of Knots Canada. Like my book, tutorials range from beginner to advanced so take a peek if you're in need of some inspiration!